July 19th

An Anthem To Safety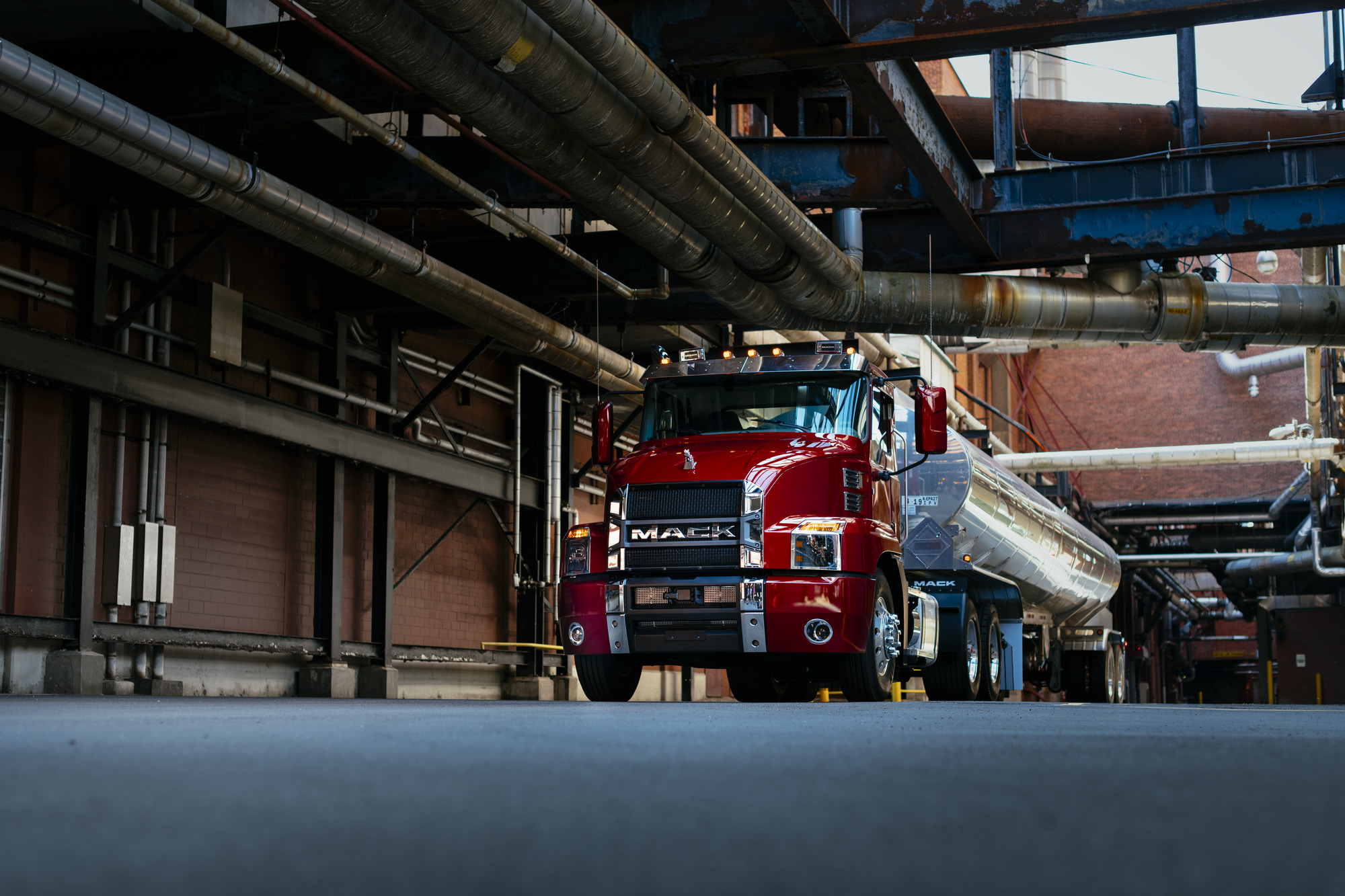 Safe operations were a top priority for engineers when they designed the new Mack Anthem® highway tractor.
Publication Date: 2019-07-19
An Anthem To Safety
Safety is a primary concern for trucking companies. Protecting drivers and the motoring public is a serious responsibility that also has business implications. The expectation from society and the trucking industry is that each new generation of truck will have increased safety performance.
Mack Trucks has a long history of pioneering safety innovations, so it was no surprise features related to safe operations were a top priority for engineers when they designed the new Mack Anthem® highway tractor.
While industrywide safety is gradually improving, there has been a rapid advance in vehicle-related safety technologies and their capabilities during the past decade, says Roy Horton, director of product strategy for Mack.
"Today we're using cameras and radar and information from the braking system in order to provide safety features," he says. "These are innovations not available to buyers until fairly recently In some cases."
Read on to learn how several Mack Anthem features are helping companies and drivers make America's roadways safer.
Pre-Trip Assistant
The Anthem's Pre-Trip Assistant guides drivers through inspection points. It provides a checklist of tasks and turns on all exterior lighting so drivers can walk around the vehicle and easily confirm all lights are working.
RollTek seats
Truck-driver fatalities often involve vehicle-rollover situations, Horton says. These are violent Incidents that can catch a driver by surprise.
RollTek seats, available on the Anthem, mitigate rollover-associated risks for the driver in four ways. When a roll sensor that monitors the truck's position detects a rollover, seat belt pre-tensioners secure the driver in the seat, the suspension seat lowers to increase survivable space, a side airbag deploys to cushion the head and neck and doors auto-unlock.
LED lights and visibility
All the Anthem's exterior and interior lights are LEDs, which are 66 percent brighter, last longer, use less energy and provide better visibility than the incandescent lights offered on previous models.
The Anthem's LED headlamps offer 655 lumens at low beam vs. the 395 lumens provided by incandescents. LED light is more like daylight, and the Anthem's headlamp beam pattern illuminates a larger expanse of roadway. LED fog lights improve driver visibility as well.
While LED headlamps and fog lights increase visibility for the truck's driver, additional exterior LED lights – including turn signals, tail lights and roof lights – make the Anthem easier for other drivers to see.
A lowered hood line also improves driver visibility, and innovative hood-mounted mirrors provide maximum visibility along the side of the trucks and trailer, in addition to enhancing aerodynamics.
Dash design
The Anthem's automotive-inspired instrument panel and steering wheel were designed to give drivers confidence and control in the cockpit.
"We designed the dash to keep drivers' eyes on the road, keeping all the switches in an ergonomic and easily reachable location," Horton says. "We focus their attention on operating the vehicle."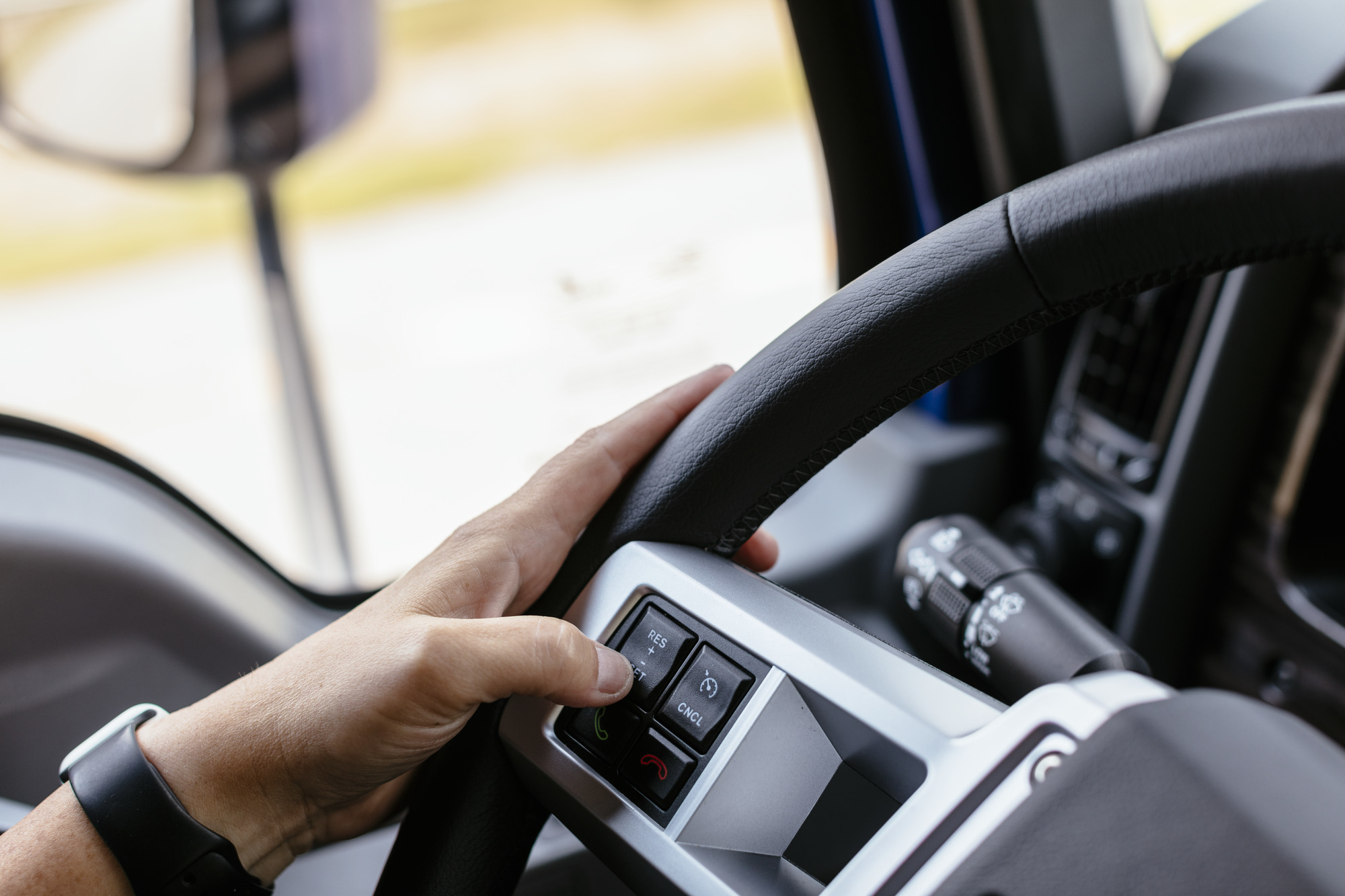 Many controls are located on the steering wheel and steering-column stalks so the driver can keep his or her hands on the wheel and avoid looking away from the road ahead.
The Co-Pilot driver information display provides in-depth vehicle status and performance data, which drivers access with one toggle of the right steering-column stalk. Drivers can scroll through the screens, make selections and go back using three controls on the right column stalk.
Cruise control, phone and radio controls are located on the steering wheel.
Grab handles and seat belts
Extruded black aluminum exterior grab handles improve ergonomics and make entering and exiting the cab safer for the driver. A handle is also located on the door inside the cab.
To encourage safety-belt use, Mack provides seat belts with Komfort Latch, which allows the driver to adjust the belt for a customized fit. Audible and visual warnings alert the driver when he or she is not wearing the seat belt, and belts in blaze orange are available, helping managers quickly ascertain whether drivers are wearing seat belts.
Transmission and engine
"Compared to a manual transmission, the mDRIVE™ automated manual transmission allows the driver to maintain his or her focus on operating the vehicle instead of shifting gears, and it does so in a very fuel-efficient manner," Horton says.
With mDRIVE, there's no clutch pedal, and shifting is controlled by intelligent software and engine integration. The transmission continuously monitors changes in grade, vehicle speed, acceleration, torque demand, combined vehicle weight and air resistance to optimize fuel economy.
Mack's proprietary engine brake plays a key role in safety as well, Horton says. "We have fantastic engine brake performance, which helps control the vehicle," Horton says. "It's quiet and highly effective."
Wingman Fusion
Bendix® Wingman® Fusion™, a camera- and radar-based driver assistance solution, is standard on all Anthem models. Wingman Fusion provides collision mitigation, adaptive cruise control and lane-departure warnings. It also can apply the brakes in emergency situations. In addition to preventing rear-end collisions, the system helps drivers avoid crashes including rollovers, loss-of-control and accidents due to lane departure.
Wingman Fusion combines and cross-checks information from multiple sources, creating a highly detailed and accurate data picture through intelligent communication among components. The result is a system that typically assesses situations faster and reacts earlier than human drivers, while reducing to near zero instances of false alerts and false interventions.
Horton recalls a press test-driving event in which a passenger vehicle moved into a left lane in front of a Mack Anthem, then made a hard stop as the car driver attempted to make an Illegal U-turn in the median. Wingman Fusion detected the passenger vehicle in front of the truck and deployed the brakes. "It was just so fast," Horton says. "If it hadn't been for the Wingman Fusion collision mitigation system activating immediately, there would have been a collision. It absolutely works."
Wingman Fusion also prioritizes alerts to help reduce driver distraction.
"Wingman Fusion is just one more way that this new generation of Mack is carrying forward the best traditions of previous models, while taking bold steps into the future of highway safety," Horton says.