October 3rd

The Time for Women in Trucking is Now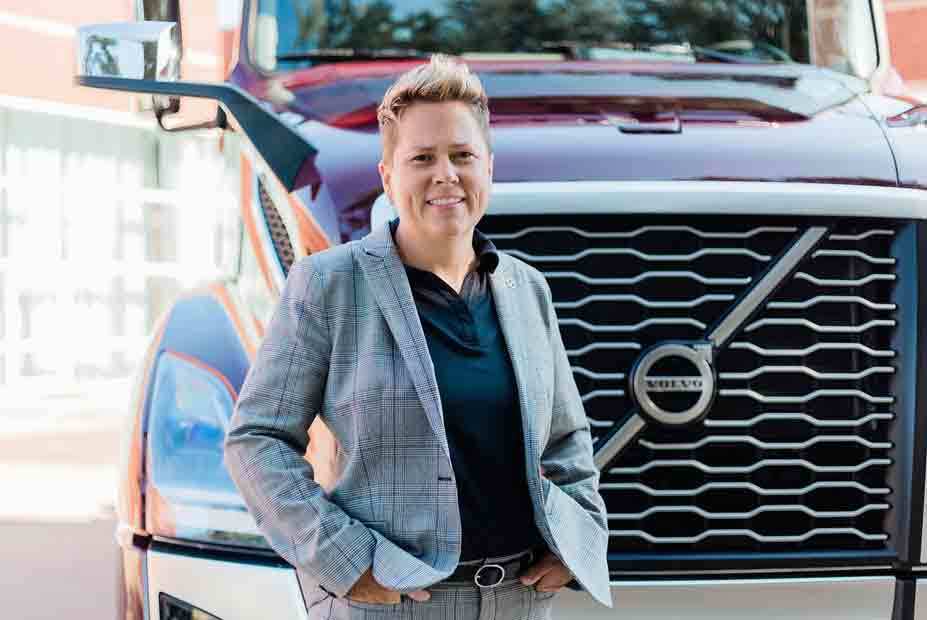 While there is much more ground to cover, women are now making up more and more of the industry demographic, challenging age-old stereotypes and making notable contributions across every link of the value chain.
Publication Date: 2019-10-03
To View Original Source in New Browser Window, click here: https://www.volvotrucks.ca/en-ca/news-and-stories/volvo-trucks-magazine/the-time-for-women-in-trucking-is-now/
The Time for Women in Trucking is Now
The trucking industry is the backbone of our economy, relied upon to safely and efficiently transport goods that support the daily needs of all Americans. The trucking industry is the single largest mover of freight and is expected to carry nearly 22 billion tons in 2029, a 35 percent increase in freight volume from today. Consider that as proof that trucking isn't going anywhere and, not only is it essential, it's booming. The for-hire trucking industry has added nearly 12,000 jobs since the start of the year and will need more qualified, driven and forward-thinking individuals to keep the momentum up.
The increasing need to move goods across our towns, cities and states is good for everyone in the trucking business, but it's going to require more qualified talent to sustain steady growth. And while the industry has been occupied primarily by men in its past, the opportunity for growth, the fast pace and the concept of "moving America" is leading to an increase in women in the industry, according to research conducted by the Women In Trucking Association and the National Transportation Institute. While there is much more ground to cover, women are now making up more and more of the industry demographic, challenging age-old stereotypes and making notable contributions across every link of the value chain, from the service department, to the executive suite and out on the road.
Kristen Swift, Account Manager at Advantage Truck Center
"Before I got into this industry, I would see a lot of tractor-trailers on the highway, but I never really saw the big picture," says Kristen Swift, account manager at Advantage Truck Center in High Point, North Carolina. "And once you do get into this industry you realize everything in your daily life involves a truck at some point." Swift developed an appreciation of that reality over the course of her 13-year career in sales for Advantage and has a clear message for others yet to put it together. "Trucks move America," Swift explains. "If you look at it, pretty much everything that you eat, wear or have is hauled on a truck."
Although this concept may be lost on everyday consumers, it is an ideal that is universally recognized across the transport industry, giving purpose to drivers, mechanics, and sales people, all the way up to the executive suite. "People who are in it are very proud to be in trucking," says Chelsea Pottle Demmons, Vice President of Pottle's Transportation in Bangor, Maine. "It's not just the owners, but all the employees of our company, who are proud of what they're able to accomplish."
Mindy Uitvlugt, currently the only female service advisor at M&K Truck Center in Byron Center, Michigan, would tend to agree. "I think no matter what side of the equation you're on, whether you're at a service department at a dealership or you're out there on the road everyday, you are out there and you are making a difference," she says. "You are either delivering to consumers or you're allowing these people to deliver to consumers. Transportation is the backbone of our country. It's very important and it's not going to go away."
Christina Ameigh, Regional Vice President, Western Region at Volvo Trucks North America
Not only are women changing the demographics in the trucking industry, but the industry itself is changing, says Kim Mesfin, president of Affinity Truck Center in Fresno, California. Mesfin likens the changes in the industry to a Silicon Valley-like transformation, influenced by the innovative technologies in connectivity, electromobility and automation which Volvo Trucks is pioneering. Think of it this way: common Cruise Control was first introduced fifty years ago. Now we have Adaptive Cruise Control, Lane Departure Warnings, Emergency Braking and a handful of other autonomous systems that bright minds at Volvo Trucks have implemented in the last decade alone. "If you look and spend some time reading about these trucks and Volvo Trucks' ability to communicate over-the-air, it is very cutting-edge," says Mesfin, "They are blending trucks and technology, so it makes it much more interesting than grease and gears."
Volvo Trucks Parameter Plus Package, Volvo Active Driver Assist (VADA), Volvo Dynamic Steering (VDS) and its new turbo compounding engine are just a few examples that were introduced this year alone. With these innovations come new opportunities in trucking. After a quick look at high-profile jobs at Volvo Trucks today, you can see how the business has shifted with a heavy emphasis on positions related to connectivity, autonomous solutions, electromobility, 3D printing and big data.
Aside from the technological attraction and the pride in making America move, the trucking industry doesn't require a formal post-secondary education, it pays well upon entry and offers many opportunities over the course of a career from driving, to service, to fleet management, on up to the executive level.
"If there was ever a time when the trucking industry was clearly a driver's market, it's today," says Christina Ameigh, regional vice president, western region at Volvo Trucks North America. "I'm 45 years old, but if I were in my twenties and I was starting out knowing what I know today [I'd be a truck driver]," added Ameigh, who got her start with Volvo Trucks as a fleet sales manager and was recently promoted to her current role. "Some companies are paying $80,000 a year to have a driver on the road full-time, offering an opportunity to travel and see lots of different cities and work with professional organizations like Volvo Trucks that offer really good benefits and flexibility in your hours," she adds. Ameigh has also seen the benefits of working on the sales side of the trucking business, having worked at Cummins for eight years before joining Volvo Trucks. "This industry truly has opportunities for people of any skill set and rewards those who put in the time and work hard."
Demmons, who grew up in trucking and is a third-generation family member of Pottle's Transportation, sees similar benefits in their northeastern operation. "It's just a really neat industry to be in and I would encourage anyone to consider the opportunities it has to offer because they are endless," Demmons said of the wide range of jobs. "It's not just driving opportunities that are in the industry, there are opportunities in manufacturing, service, fleet management. Whatever you want to do, there's a place for you in trucking."
Chelsea Pottle Demmons, Vice President of Pottle's Transportation
Additionally, a role as a mover of the economy has its benefits when it comes to job security, Mesfin adds. "This is a very, very stable industry and a stable job opportunity different than automotive or any other job where you follow the economic cycles," she explains. "Trucking isn't touched by that because we are always consuming at some level. You have a place in this particular marketplace that isn't going away."

Volvo Trucks North America has always relied on the generation of ideas to conceptualize and develop its innovations. This approach relies heavily on skilled, talented and driven professionals who come from a variety of different backgrounds and upbringings. Volvo Trucks is devoted to empowering women and all individuals to join this robust industry and continue to move America with us.