August 16th

Dirty Feats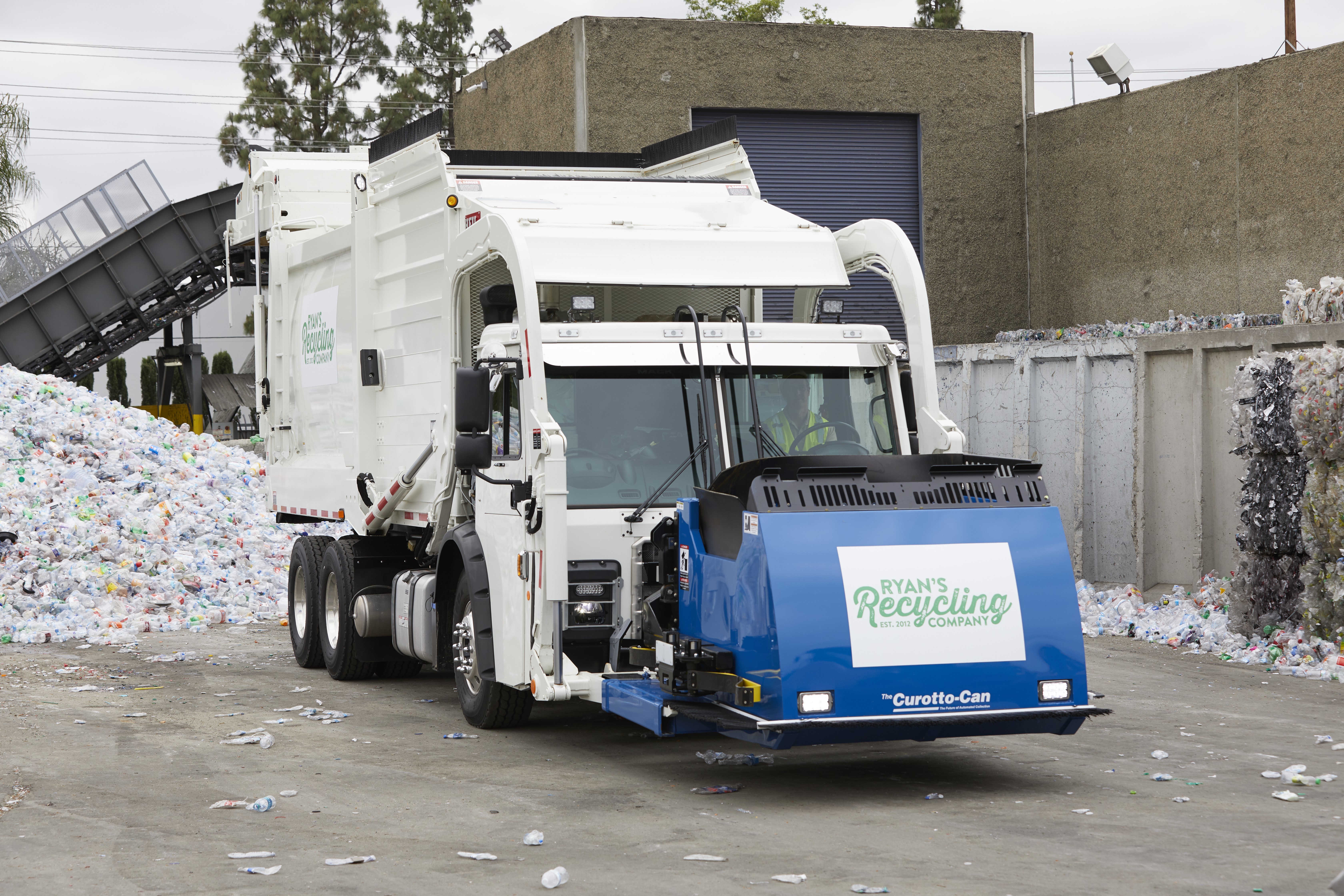 Residential trash collection is not only a demanding truck application, but a dangerous one that requires high levels of versatility and maneuverability.
Publication Date: 2019-08-16
To View Original Source in New Browser Window, click here: https://www.macktrucks.com/mack-life/blog/2019/august/dirty-feats/
Dirty Feats
"Safety is a very big issue for the refuse industry in general," says Curtis Dorwart, refuse product manager for Mack Trucks. "Trash collecting is usually in the top five most dangerous occupations, up there with mining and roofing. Automobile drivers are texting, not paying attention, and they're running into the backs of trucks or running into helpers who are loading trash."
Automated collection equipment is one way to lower injury risks for workers. When automated loaders empty trash bins into the truck body, workers don't have to walk around the truck, where another vehicle might hit them. Automated loaders reduce musculoskeletal injuries as well; they do the heavy lifting so workers don't have to.
"So the push is to try to get away from doing manual collection as much as possible and do more automation," Dorwart says.
Sometimes automation isn't possible for various reasons, including the density and complexity of routes and the presence of overhanging trees that might obstruct an automated loader. Many municipalities and companies have a mix of routes — ones that are automated, some that are semi-automated and others that are manual.
Versatility and productivity
The Mack® LR Model, a low cab-over engine straight truck designed for the refuse industry, can be configured with several body types — front loader, rear loader, side loader and manual load — to fit numerous applications within the residential-trash-collection segment.
"All of these different body types require a truck that's very flexible, very maneuverable, one that can accommodate different driving positions," Dorwart says. "All of those things are supported within the LR Model."
A single truck can be set up to tackle multiple applications.
"If you're doing automated pickup, but you also have to do recycling or you've got some manual routes, maybe you want to do a front-end-loading body with an automated carry can, which actually serves as a built-in side loader, so you can use that truck for an automated side-loading application, but also use it for manual collection or even some commercial front load," Dorwart says. "You get a lot of flexibility out of that truck."
Available in single- and tandem-drive configurations, the LR Model offers multiple driving positions — including standup, seated and left, right and dual steering — as well as three door options — standard door, flip door and bi-fold door. Customers choose setups that will enhance safety and efficiency, depending on route type. For instance, a one-man crew could be most productive along a fully or semi-automated route if the driving position were on the right. This position saves steps and also optimizes safety because the driver can exit curbside to place roll carts in a loading system or check loader operation.
Drivers and other crew members also can enter and exit the cab quickly thanks to a low cab-floor height of 17 inches, an easy-to-­navigate cab design and large door openings.
"Productivity and uptime, as well as safety, are huge needs in residential refuse applications," Dorwart says. "The LR Model meets these needs with different configurations, different seating, different doors and different driving positions that allow the customer to optimize to whatever type of collection situations they have to deal with."
Automated carry cans
Automated carry cans are particularly helpful in broadening a residential refuse truck's applications. The devices, which are typically around 4.5 cubic yards in size, can attach to the forks of an LR model equipped with a front-end-loading body. A lift arm on the carry can picks up trash or recycling containers and dumps them into the carry can. Once the carry can is full, the front-end loader empties it into the compaction hopper of the body.
"You've got yourself a mini side-loader," Dorwart says. "So you can use that truck to automatically lift carts or manually throw trash in there and then dump it in the hopper. The versatility is increased greatly versus having a truck that's just an automated side loader."
Driver comfort and retention
Driver and crew-member retention also is a key factor in residential-trash-collection applications, and the LR Model was designed with the crew's comfort and convenience in mind.
Inside the cab, storage space abounds, including a centrally located storage platform for keeping paperwork, cellphones and lunch boxes. Cup holders accommodate regular and oversized bottles.
The tilt and telescopic steering column, suspended pedals, knee bolsters and arm rests give drivers the opportunity to customize their work environment. The factory-installed air-conditioning system provides relief from the heat on hot days.
One-step entry and exit from the cab and large grab handles reduce the physical demands of curbside pickup operations. "You're doing a lot of stops a day, so you're going to be in and out of that truck quite a bit," Dorwart says. "A big plus is that the LR Model has a very low step-entry height, so getting in and out of the truck is a lot easier than from a mid-floor-height truck."
The LR Model's large windows make maneuvering narrow streets and monitoring side loading much easier for the driver. Windshields are large and extend down to just above the grille to provide superior forward visibility, and large side windows and door peep windows almost eliminate blind spots. Rear wraparound windows provide a clear view of cross traffic.
"The large windshields allow you to get very good visibility, especially up close to the truck," Dorwart says. "That's very important in tight areas, especially residential areas or cities where you've got ­pedestrians or ­bicyclists or parked cars."
Visibility goes hand in hand with maneuverability, and Mack trucks excel in that arena as well. Maneuverability is imperative in residential-refuse applications, where trucks must navigate through tight spaces, Dorwart says.
Mack offers a pre-wire option for fleets to install Lytx cameras and video telematics services. The Lytx DriveCam safety program can help reduce unsafe driving behaviors through video-based driver coaching and predictive analytics. It can also help improve fleet efficiency and productivity The factory-installed wiring system enables the customer to simply plug-in the Lytx event recorder, reducing installation costs.
Uptime
Uptime is essential in trash-collection applications.
"In many cities, the sanitation department is like a direct line to the mayor because they know if that thing shuts down for one day, there's all kind of heck to pay," Dorwart says. "It becomes a health issue."
Substituting a downed truck in the refuse industry is no easy task. Due to equipment costs, most companies and municipalities don't keep spares, Dorwart says, and because the trucks are specialized pieces of machinery, renting a replacement usually isn't possible.
Mack's GuardDog® Connect telematics platform, which comes standard on the LR Model, significantly reduces downtime. The system monitors trucks in real time for potential issues and starts the support process immediately — usually before the driver knows there's a problem.
"The whole idea is to get ahead of the curve, and then if something does have a hiccup, we have the ability to get things squared away quickly," Dorwart says.
Ideally, this means making repairs when trucks are not scheduled to be on their routes. "We can do the diagnosis before the truck even comes in," Dorwart says. "We found the average repair time is less than four hours."