January 2nd

Committed To Your Success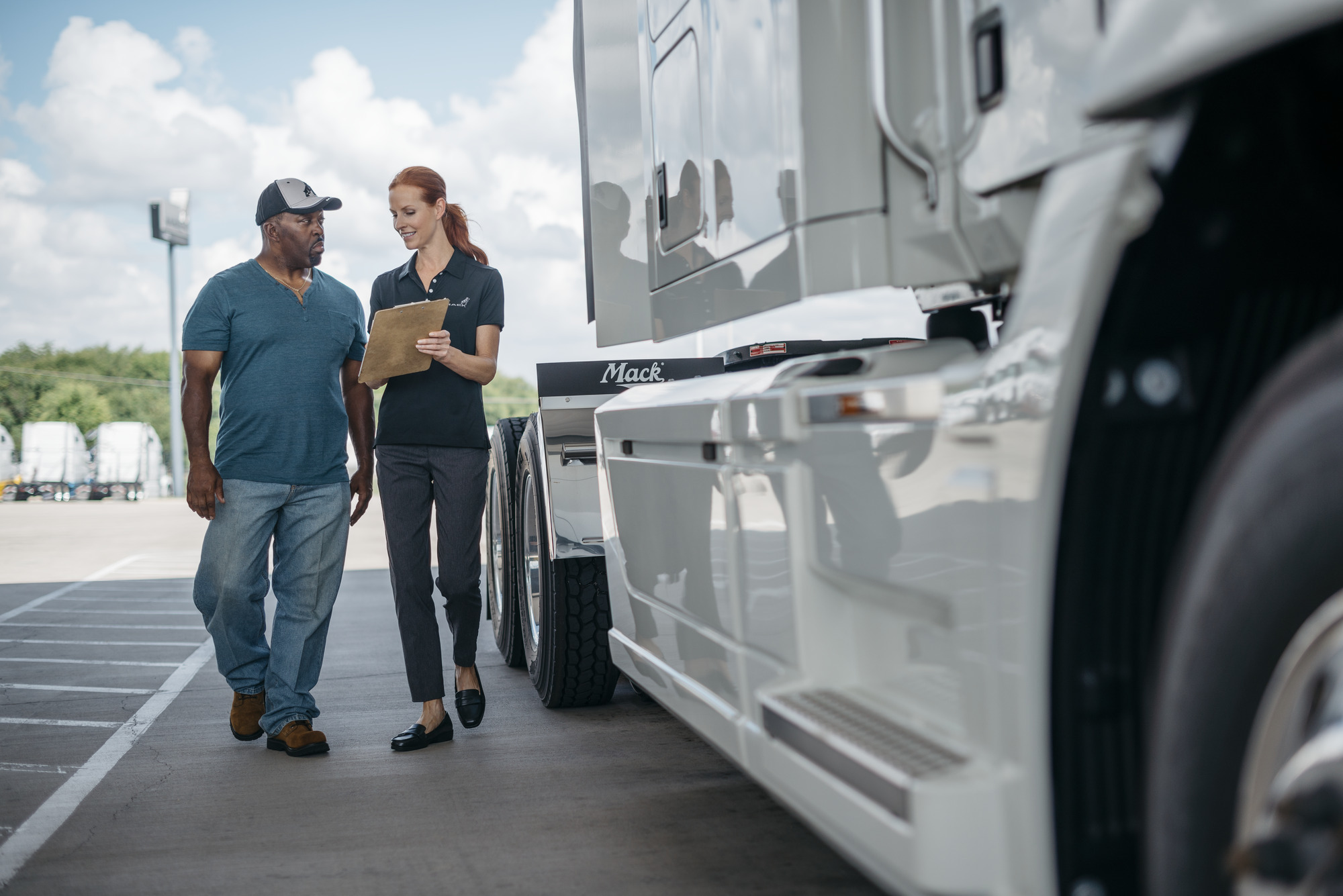 We understand your business and we're focused on meeting your needs and exceeding your expectations.

Publication Date: 2019-01-02
To View Original Source in New Browser Window, click here: https://www.macktrucks.com/mack-life/blog/2019/january/committed-to-your-success/
Committed To Your Success
We understand your business and we're focused on meeting your needs and exceeding your expectations.
Every Mack comes with a portfolio of services that add value to your investment and profitability to your bottom line. It's all part of our commitment to giving you an exceptional Mack customer experience throughout the life of your truck.
UPTIME SOLUTIONS
Downtime happens, and it's usually not on your schedule. When it does, we're here to help with 24/7 roadside assistance and diagnostic tools that get you back on the road as quickly as possible.
Diagnostic Tools – We make engine troubleshooting accurate and easy with our proven diagnostic software solutions.
Mack OneCall™ – If problems arise out on the road, you're just a phone call away from a prompt, professional solution. Get roadside assistance anywhere in the U.S. and Canada with Mack OneCall™.
GuardDog® Connect – GuardDog® Connect is like a co-pilot dedicated to your peace of mind, linking your truck to a network of support staff and repair centers that are ready to help, 24/7.
Customer Experience Management – Every dealership in the Mack network is committed to delivering superior customer service. With our consumer-focused service strategy, we are constantly looking for ways to help you save time and money.
BUSINESS SERVICES
We understand your business and we're here to help with smart, flexible financial solutions to protect your cash flow and accelerate your success.
Mack Financial Services – Whether you operate a single truck or an entire fleet, Mack Financial Services are designed to expedite your new or used equipment purchases and provide flexible financing for major repairs. For information about MFS offers, please visit Mack Financial Services or go to their Contact Us page.
FLEET MANAGEMENT
Managing your fleet's parts and services costs has never been easier.
Mack FleetPREFERRED™ – Our purchasing-based program for fleets with 20+ trucks takes the guesswork out of pricing and simplifies billing.
Protect your bottom line by signing up today at www.fleetpreferred.com.
Mack Fleet Management Services – Mack Fleet Management Services deliver intelligent tools that reduce costs while maximizing your fleet's fuel efficiency, uptime and safety.
E-COMMERCE
Minimize downtime with around-the-clock online access to our full catalog of parts.
SELECT Part Store™ – The SELECT Part Store™ gives you 24/7 online access to more than 500,000 parts. Simply search, select and have the parts delivered directly to you or to your Mack dealer. Sign up today to enroll.
PARTS & SERVICES
No matter where you run or what you haul, we have a wide range of quality parts and service plans to fit your needs and meet your timeline.
Impact Parts Access – Our free, web-based system makes access to VIN-specific parts and service information fast and easy.
Pure Mack Parts – With legendary Mack quality, Pure Mack Parts are every bit as rugged as the trucks they go into, and they're backed by one of the best parts guarantees in the industry.
Pure Mack Painted Parts Program – Major body and paint work should never slow down a Mack. We deliver pre-painted hood/bumper combinations, cabs and other body parts in any factory color, professionally finished and ready to install—wherever and whenever you need them.
REMACK® – Get reliable and affordable remanufactured Mack parts with REMACK®. Every component is remanufactured to exact Mack OEM/Reman specs for better performance, increased reliability and longer life.
Road Choice® – Road Choice® truck parts provide an all-makes parts option for fleets and owner-operators. Road Choice® offers over 40 lines of quality, heavy-duty parts, all backed by extensive warranty coverage. Visit roadchoice.com for more information.
DEX Heavy Duty Parts – As the nation's largest supplier of renovated, recycled and surplus truck parts, DEX Heavy Duty Parts brings new life to older trucks, helping your bottom line and the environment. Visit dexheavydutyparts.com for more information.
ASIST (Automotive Service Initiation System) – Our web-based service management platform streamlines communication and helps you manage costs by letting fleet managers and service providers work together in real time.
Mack Premium Maintenance – Control your expenses with pre-paid preventive maintenance plans in a variety of coverage options. Select a plan that fits your needs and lock in favorable rates for parts and labor.
Mack® Overhaul – If your engine is showing signs of age, Mack Overhaul may be the ideal service solution. With options ranging from basic to a REMACK fully remanufactured engine, Mack Overhauls offer an available 3-year/350,000-mile warranty when installed by an authorized Mack dealer.
Maintenance Intervals – Newer Mack engines produce less particulate matter than ever, allowing us to expand the window for DPF and engine oil and filter changes. Extended service intervals can save you money over the life of your truck, reducing the total cost of ownership.
SUPPORT SERVICES. PARTS. BUSINESS SOLUTIONS. PEACE OF MIND.
When you buy a Mack, they're all part of the package.
We're committed to your success through the entire life of your truck. Our uptime support and cost-lowering services are designed to keep your vehicles performing and your business profitable. Mack's exceptional network and services give you the confidence and courage to dream, compete and succeed. You've got the power of Mack behind you, now and for the long haul.
For more detailed information on the parts and services available to you, please contact your Mack dealer.