May 30th

What Steering Symptoms Really Mean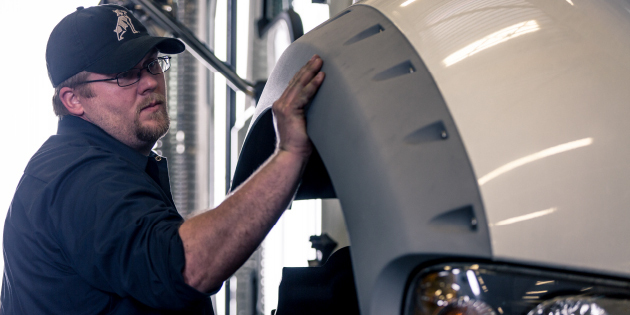 In general, many steering system problems can be avoided with regular inspection and ongoing preventive maintenance (PM)
Publication Date: 2018-05-30
To View Original Source in New Browser Window, click here: https://www.macktrucks.com/mack-life/blog/2018/may/what-steering-symptoms-really-mean/
What Steering Symptoms Really Mean
Anyone who manages a fleet of vehicles has heard these words from their drivers before – turns hard, won't turn, locks up, hangs up, oversteers, feels shaky, runs noisy.
Those are just some of the ways that drivers describe steering problems. And they may or may not be caused by what seems like the obvious culprit – a steering gear that's worn or leaking fluid.
Here are some of the vehicle components that can cause steering problems:
Dry fifth wheel – A dry or improperly lubricated fifth wheel is a common culprit when drivers report wandering steering, oversteering or no recovery after completing a turn.
Tight king pins – Tight king pins on the front axle can prevent a vehicle's wheels from returning to the straight position after a turn. This can lead to reports of no recovery, or wheels not returning to the straight position after a turn.
Improper alignment – Front-end alignment that's out of spec can lead to vehicle wandering or lost steering motion, no recovery after a turn, and shimmy in the steering wheel.
Uneven tire wear or improper inflations – Tires are the root cause of many steering problems. Unequal tire pressure between the left and right sides of a vehicle can lead to road wander or the need for higher or greater steering effort when turning, but in just one direction. On the other hand, low tire pressure can create a high steering issue in both directions or a no-recovery problem after a turn.
Frame damage or modification – Damage to or loose components in the steering linkage system can cause wandering, shimmy in the steering wheel, and oversteering or darting.
Overloading – A vehicle that is overloaded may require high steering effort in one of both directions. The strain of turning a vehicle that's overloaded may also create excessive heat in the steering gearbox, which can damage the steering gear and other system components.
Of course, in some situations, the steering gear is to blame for steering difficulty, including a loss of power steering. Power steering fluid leaks can be identified visually and are typically caused by faulty seals in the steering system. To find the source of a leak, check the input and output shaft seals, steering fluid reservoir, high-pressure outlet and dipstick cap.
You'll also want to check the steering system for loose steering gear mounting bolts, improper gear adjustment, kinked or binding hoses, and improper poppet adjustment. Without a thorough inspection, these issues can be difficult to diagnose.
In the steering gear itself, excessive heat can cause internal seal damage that can result in hard steering or binding. In addition, a steering gear that is not properly maintained and adjusted can develop wear that contributes to steering lash.
When diagnosing steering issues, a power steering system analyzer (PSSA) is an invaluable tool. Always use a PSSA to measure fluid flow and pressure in the steering system when troubleshooting problems; with a few simple steps, you can verify if the steering gear or power steering pump may be the cause. You'll also ensure you're making the right repair and optimizing vehicle uptime.
In general, many steering system problems can be avoided with regular inspection and ongoing preventive maintenance (PM). The Mack service guide recommends replacing a vehicle's power steering fluid and filter at 150,000-mile intervals. In addition, the entire steering system should be inspected at every oil and filter change.
Get in Gear with OEM-Quality Components.

Even with a comprehensive PM program, you can't eliminate the possibility of a steering problem in one of your fleet's vehicles. If the issue turns out to be the steering gear, fix it right with a genuine TRW remanufactured component. Each one undergoes a thorough and stringent remanufacturing process to return it to OEM-quality and performance specifications. And for your peace of mind, each TRW remanufactured steering gear is backed by an 18-month, unlimited-mile warranty.
Contact your local Mack dealer to schedule a steering system inspection or to purchase steering gears, which are only available through the Mack dealer network. Or log on to the SELECT Part Store™ any time of the day or night to place an order. If you're not a SELECT member, join today for real-time stock status and pricing from your local dealer, 24/7 online ordering and regular discounts on the parts you need.