Give Your Driver the Tools to Do the Job.


Everywhere you look on the VHD, you'll find rugged construction and improvements that will help you tackle your most demanding tasks. From tow hook to tail light, this truck is made to work.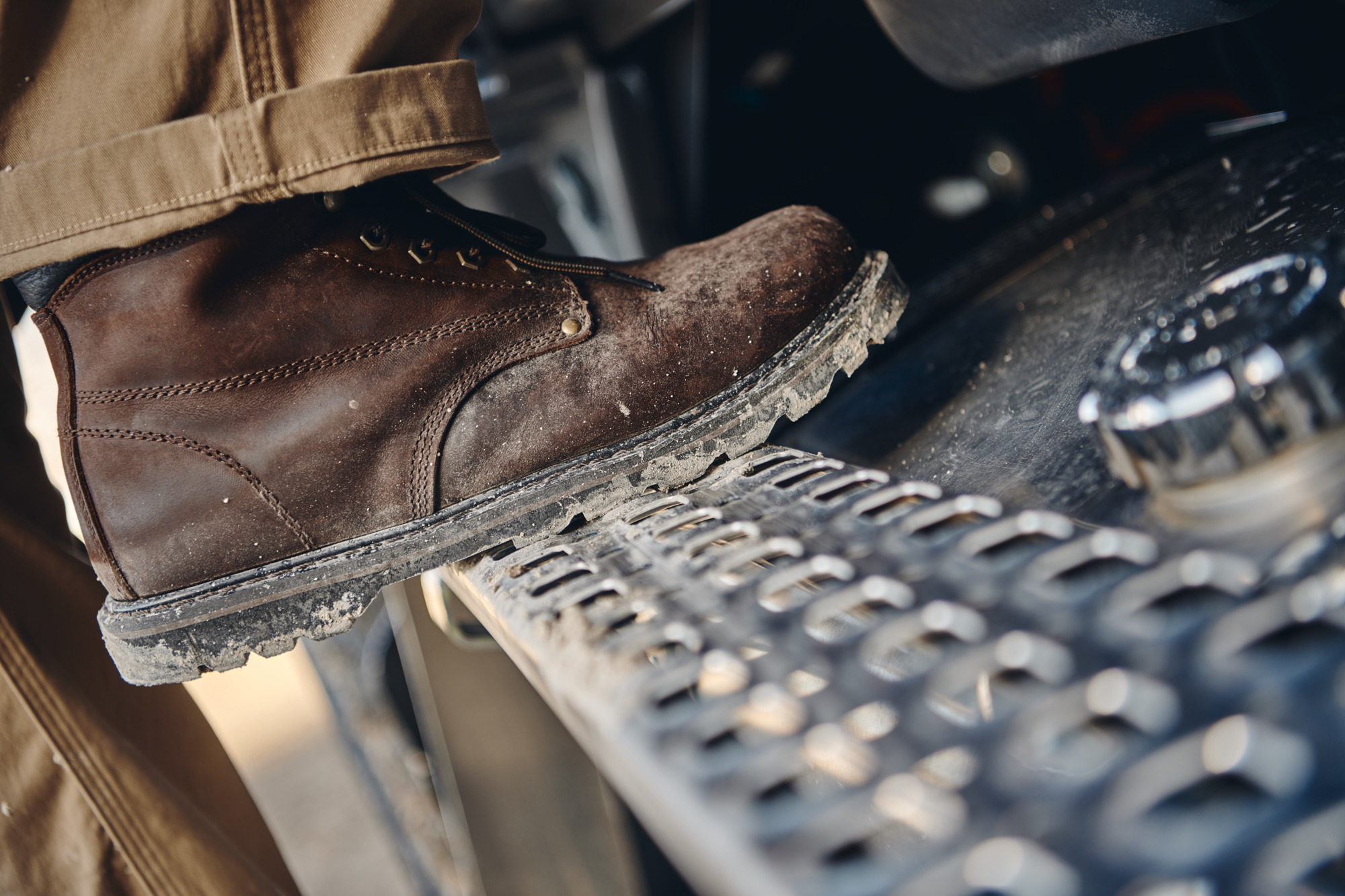 I-Shift with Crawler Gears
When steep-grade startability and low-speed maneuverability are critical, the I-Shift with Crawler Gears is the answer for maximum Gross Combined Weight (GCW) loads. The crawler option adds either one or two gears to the I-Shift, a low gear and ultra-low gear, for low-speed control.

The I-Shift with Crawler Gears' weight capacity is among the industry's highest for automated manual transmissions. It enables controlled forward and reverse travel at extremely slow speeds, perfect for paving and curbing applications. Upgraded software optimizes shifting for high GCW applications, allowing shifting to occur at higher revs, and enabling drivers to control downshifts.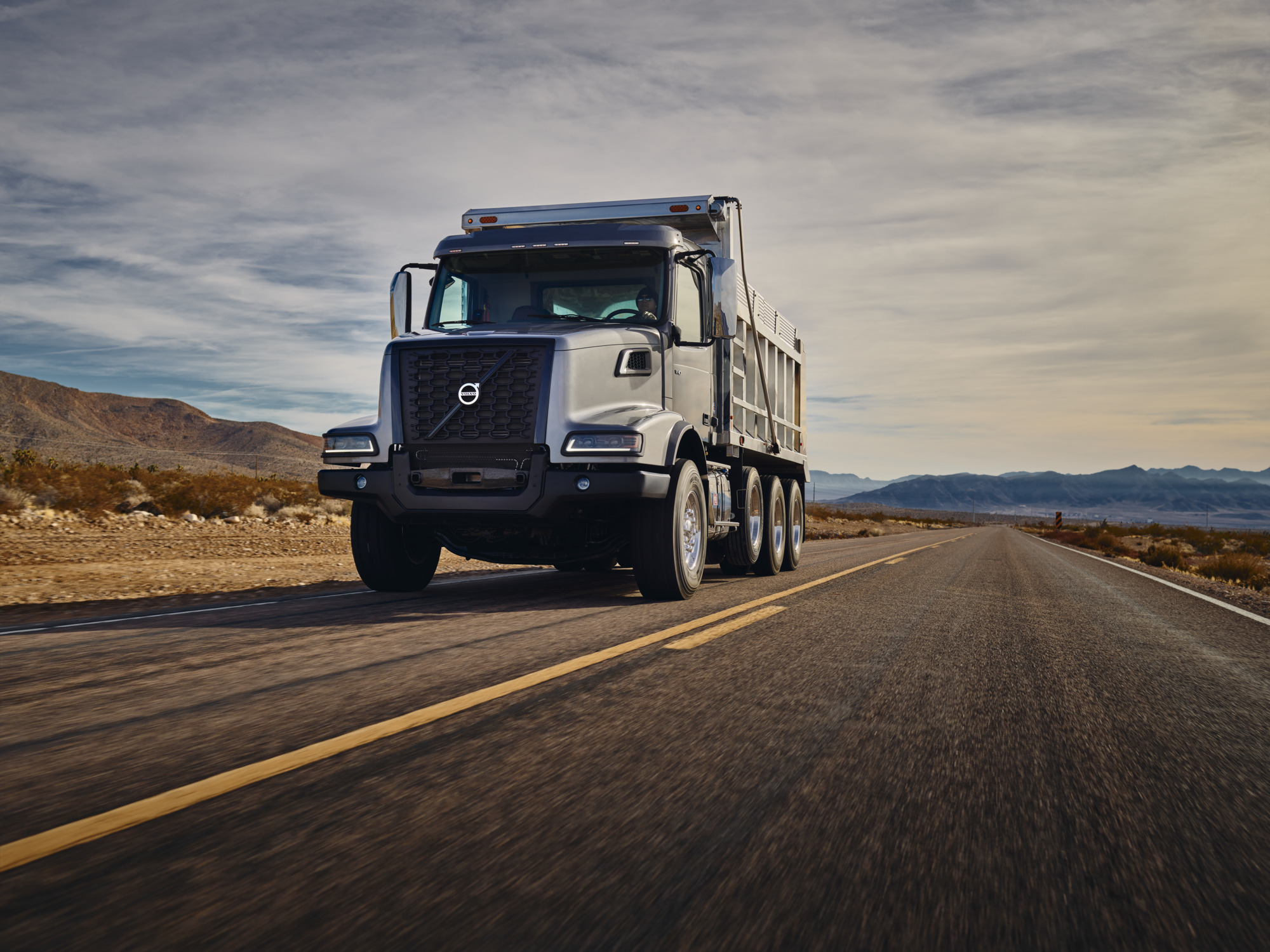 Enhanced Volvo Active Driver Assist.
Next generation VADA technology is now available in the VHD. The system integrates radar and camera technologies, providing constant monitoring of obstacles in front of the truck.
Next-Level Protection on the Job.
Built to exceed the demanding Swedish Cab Safety Test, our high-strength steel (HSS) cabs have the industry's highest strength-to-weight ratio, protecting the driver by absorbing as much crash energy as possible. Volvo is the only Class 8 manufacturer to make a driver's side airbag standard equipment in every truck. For added rollover protection, Volvo offers the Rolltek® seat, combining seat belt pre-tensioners, automatic seat lowering to increase survival space, and an integral side airbag that deploys for head and neck protection. Volvo combines advanced engineering with active and passive safety systems, exactly what you'd expect from the inventors of the three-point safety belt.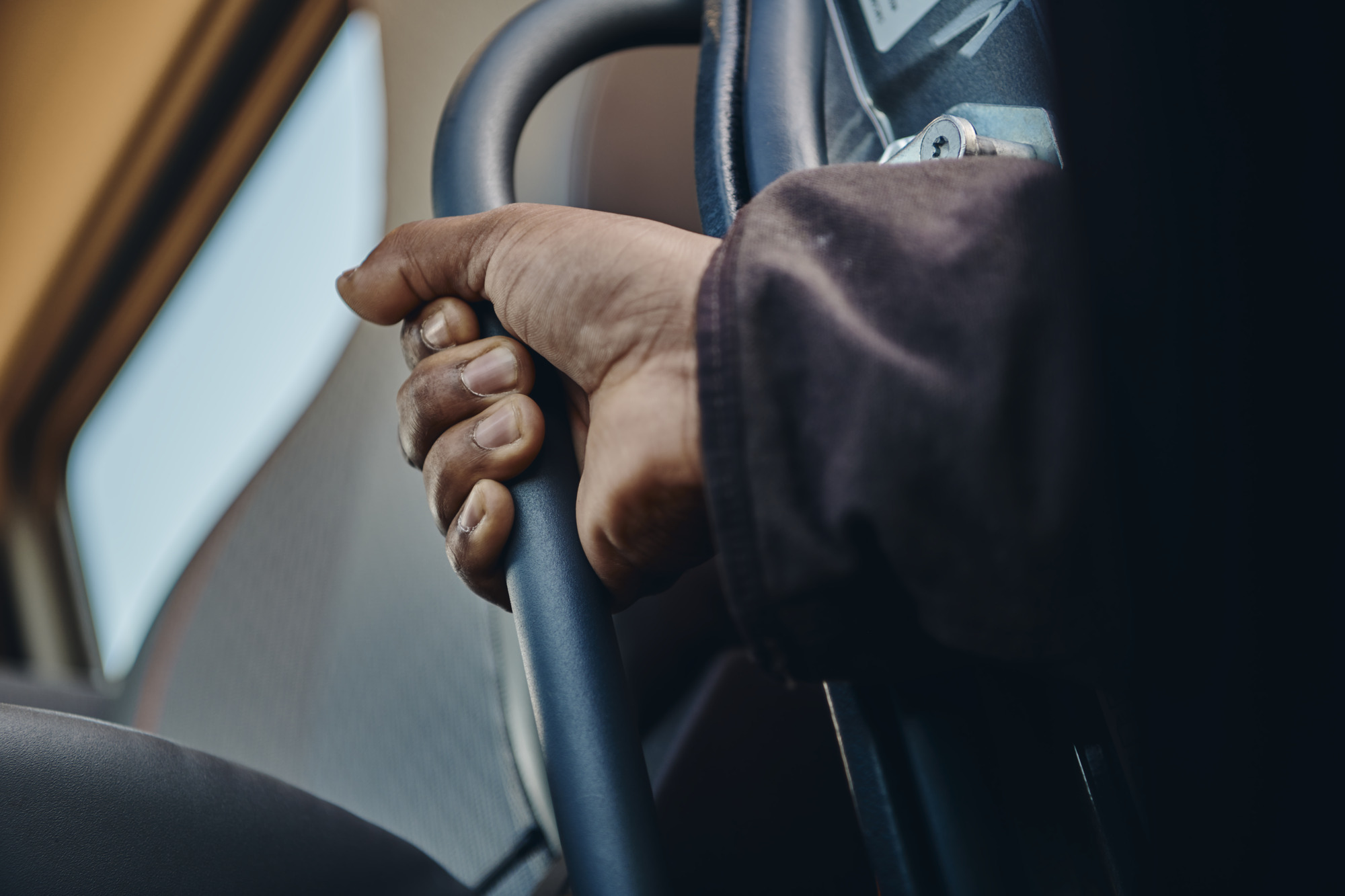 Volvo Dynamic Steering
The revolutionary Dynamic Steering system is now available on the VHD. VDS offers a safer, more comfortable experience operating on the jobsite. It adds torque to reduce steering strain on the driver at low speed, both in forward and reverse. Over a full day's drive this means significantly less strain on the driver's arms, shoulders and neck.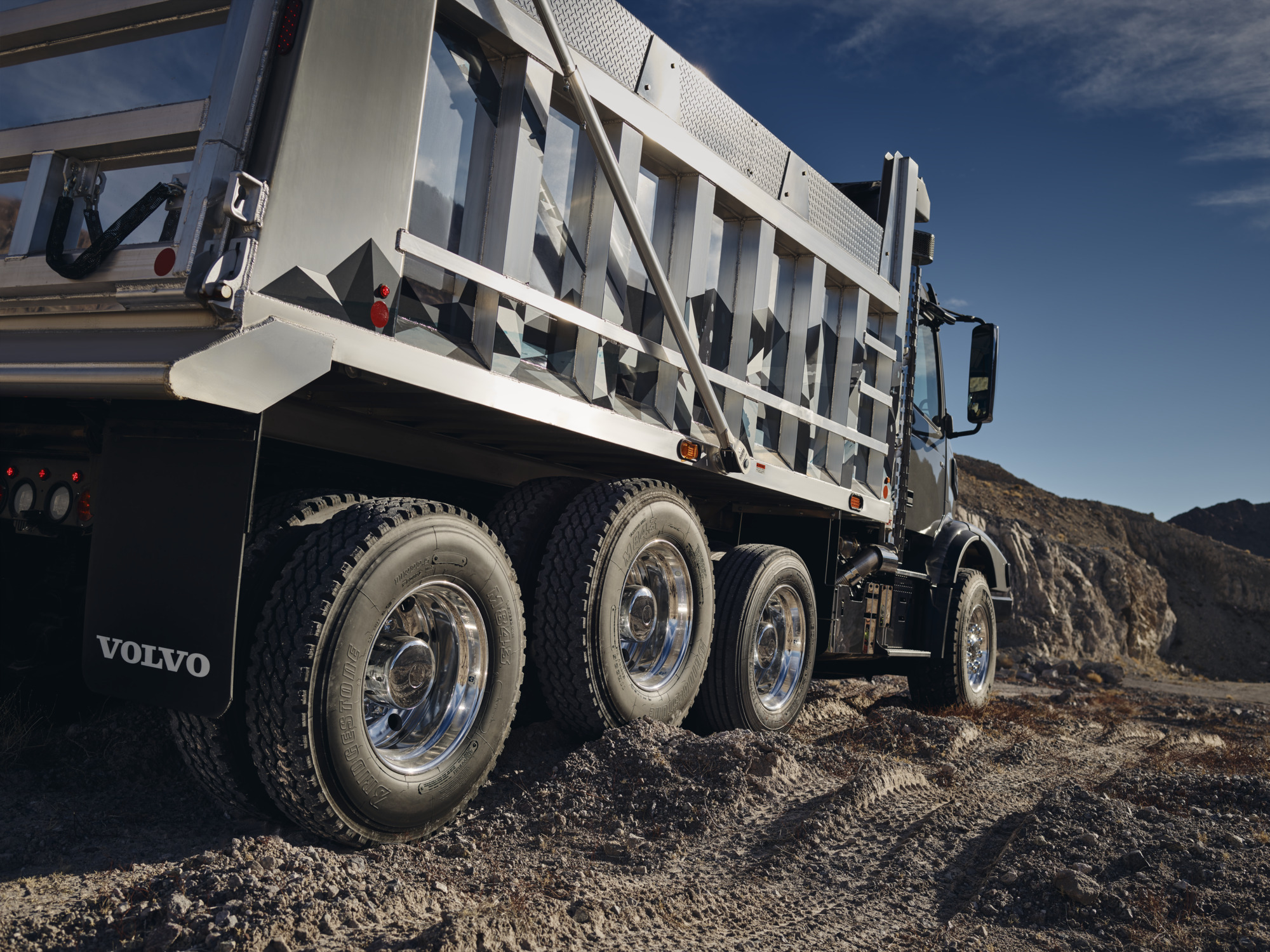 Delivering Non-Stop Performance.
The VHD suspension system is designed to deliver the best ride even under the most demanding conditions. Our industry-leading suspension articulation can provide constant ground pressure for greater traction. The standard Volvo T-Ride suspension features trunnion-mounted springs and rubber towers for excellent traction and articulation in off-road conditions.
Designed To Improve Visibility.
The VHD features LED high/low beam headlights for greater visibility and a distinctive new daytime running light. Turn, marker, and parking lamps are all LED powered. The fully sealed headlamp component delivers a brighter, more focused beam. The new design offers more robust bulb life and even includes a de-icing feature for cold weather climates.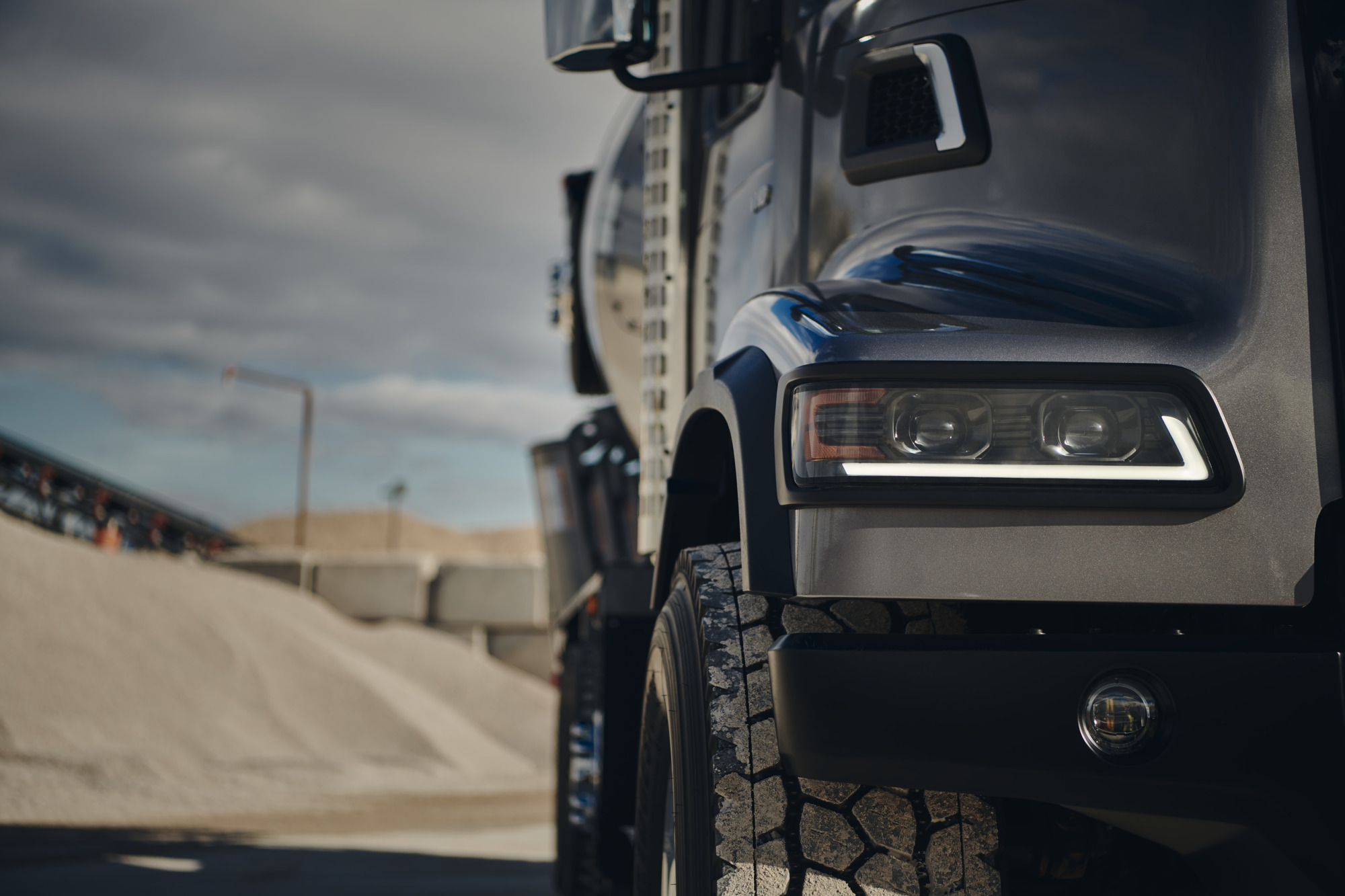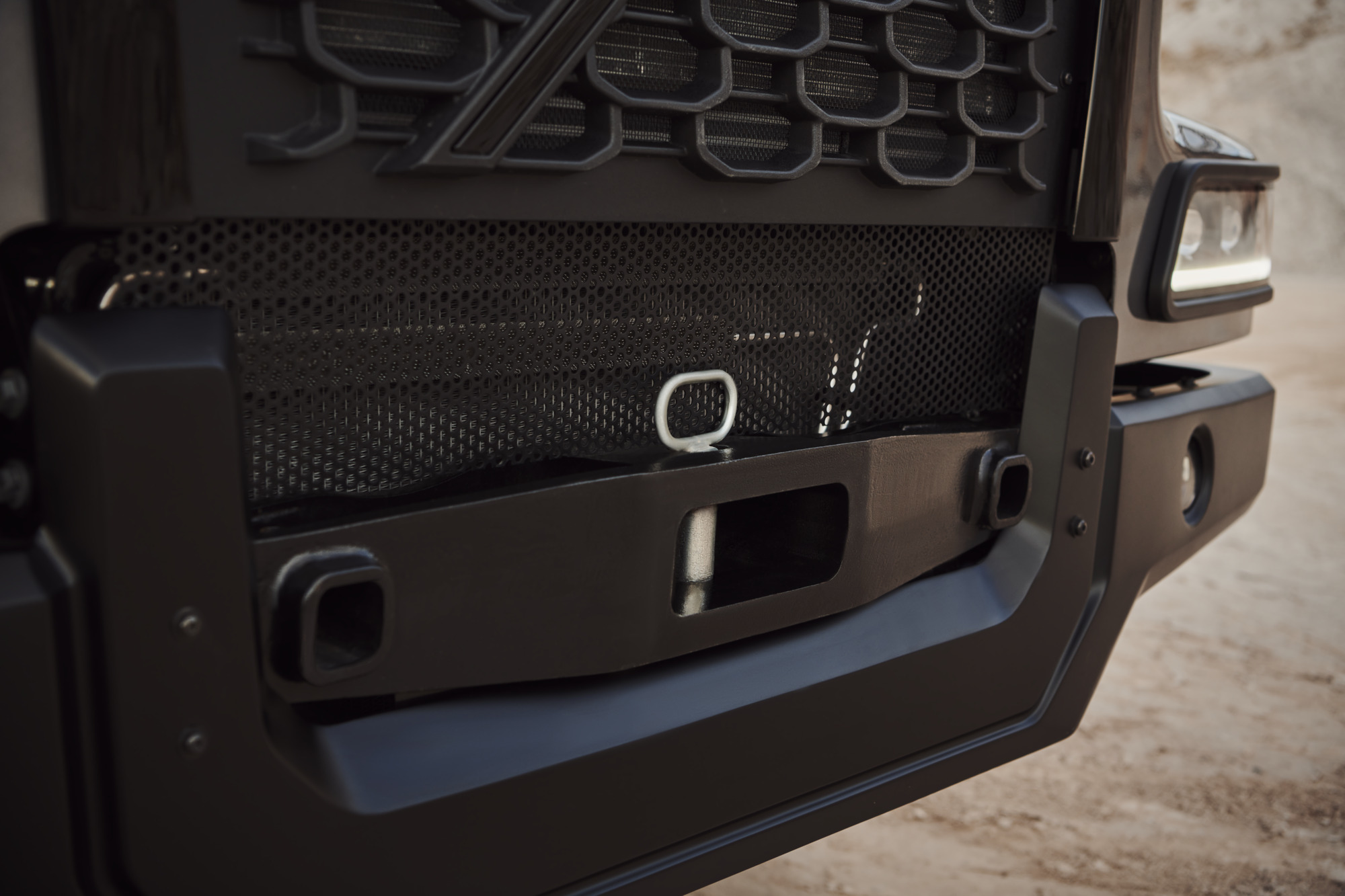 Built for Heavy-Duty Applications.
The rugged VHD bumper features a heavy-duty tow pin and center tow beam, made of 100-ksi steel, that's rated for a full 80,000 pounds. The bumper fascia is constructed from quarter inch thick, high-strength alloy aluminum and is supported by welded internal bracing. The fascia features a tough, black polyester powder paint finish, while all steel components are covered in urethane paint for extreme corrosion resistance.
Toughest Truck Finance Program.


Retail customers can take advantage of the Toughest Truck Finance Program from Volvo Trucks Canada, for a limited time.
Customers who purchase eligible, in stock model year 2020 & 2021 Volvo VHD trucks can receive no charge Engine Plan 2 - 3yr/300,000 mile purchased coverage.* Additionally, a term extension and up to 90 days to first payment available for qualifying customers who finance with Volvo Finance.*
Eligible units must be delivered by March 31, 2020. Contact one our Volvo Account Managers for more information and eligibility.
*OAC conditions apply as per the Volvo Financial Finance Toughest Truck Finance Program

To take a test drive and connect with our Volvo Account Managers
-
The Volvo VHD. Tough enough to tackle your business's most demanding jobs.
Please fill in the fields and click the submit button. All form fields with an asterisk are required.
Vision Stoney Creek
Monday - Friday

7am - 2am

Saturday

7am - 4pm

Sunday

Closed
Vision London
Monday - Friday

7am - 2am

Saturday

7am - 4pm

Sunday

Closed
Vision Parts Distribution Centre
Monday - Friday

7am - 5:30pm

Saturday

Closed

Sunday

Closed