February 15th

Volvo Trucks' North American dealer network now includes more than 100 Certified Uptime Centers
Helping maximize efficiency through greater availability and standard processes
"Post-purchase support is vital and our Volvo Certified Uptime Centers show that we're serious about our businesspartnerships and supporting maximum uptime," said Bruce Kurtt, senior vice president of sales for Volvo TrucksNorth America. "Our dealer network has embraced the Certified Uptime Center concept and processes, andcommitted to a new approach to customer service. More than 100 of our North American dealers have nowcompleted the rigorous certification process that will help more Volvo Trucks customers get back on the roadquickly following a service stop."
Volvo Trucks established Volvo Certified Uptime Centers as part of an ongoing commitment to increase customeruptime and satisfaction. To be certified, dealers must implement numerous modifications to their service processes,including the designation of uptime bays for repairs taking less than four hours, as well as revised serviceworkflows to speed repairs. These trucks are serviced immediately instead of the first-come, first-served practicecommonly used for vehicle repairs. Certified Uptime Centers are fully integrated with other Volvo Trucks uptimesolutions, including Remote Diagnostics and the Truck Diagnostic System and web-based service managementtool, Volvo ASIST.
"The Uptime process has become part of our identity as a dealer group and an expected standard by ourcustomers," said Clay Claiborne, corporate service manager for Bruckner Truck Sales, which has achievedcertification at all 22 of their locations.
"Volvo Certified Uptime Centers offer consistency," said Mike Gomes, vice president of maintenance for BisonTransport. "This is important for our operations and our drivers as they can now be confident in the service that theywill receive across the network regardless whether they are at their home dealer or pulling into a dealer for the firsttime. In essence the relationship has been established for the entire network through the Certified Uptime process.It provides confidence to our team knowing we will receive information in a defined period and action isguaranteed."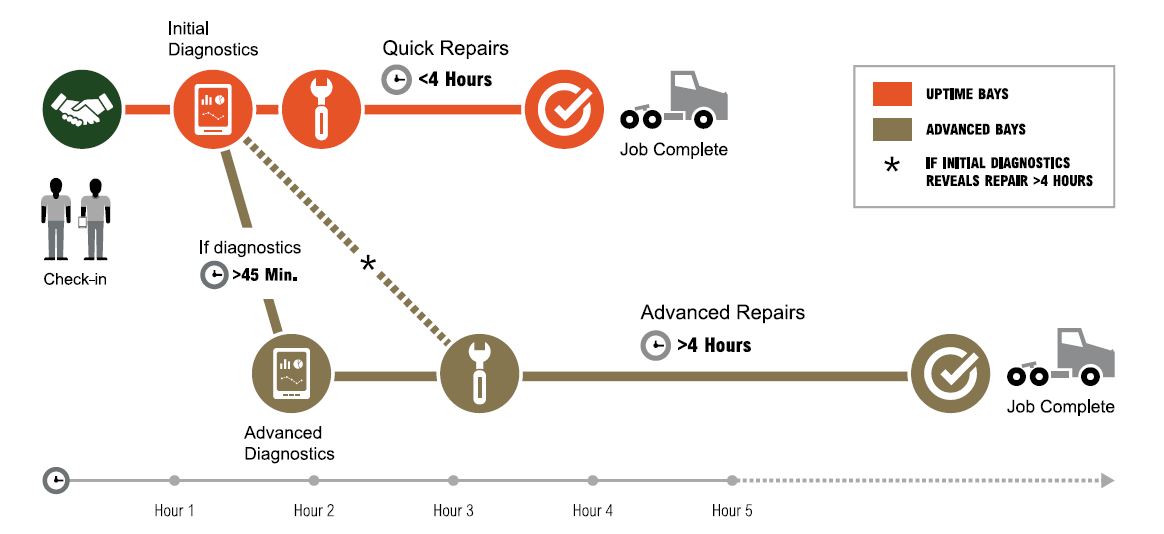 Certified Uptime Center locations are also experiencing benefits. In addition to an improved customer experience,the standardized processes and greater integration with Volvo's connected vehicle systems are helping improveservice efficiency and bay utilization, which leads to greater throughput and ultimately increased overall servicerevenue.
To qualify as a Volvo Certified Uptime Center, a dealer location must be fully proficient in 28 key categories relatedto efficient service and repair. They range from consistent use of proven diagnostic tools to workshop organization, in addition to the designated uptime bays and updated workflows. The certification takes about eight weeks to complete and includes a final assessment by the Volvo Trucks dealer support team.
All Vision Truck Group locations are Uptime Certified.