September 15th

Etobicoke location officially an Uptime Center
Less Time in the Shop. More Time on the Road.
As of September 14th 2017, Vision Truck Group (VTG) Etobicoke is officially a recognized Uptime Center. VTG's fifth location to achieve such a status.
For those wondering what exactly a Certified Uptime Center is, it is when Volvo and Mack trucks dealerships adopt and perfect a set of standards and procedures which ultimately help drivers by reducing repair times, improving communication, and making sure that each service is completed with the utter most efficiency and productivity.
It is worth noting that VTG's Mississauga location was the first ever certified Uptime Center in all of North America.
"This idea was pioneered by Vision Truck Group Mississauga in 2013, and then the process was refined, developed and implemented by Mack and Volvo North America," said Travis Brown, Vision Truck Group Director of Service Operations. "We started a process and once Mack and Volvo heard about its success, they took the reins and now there are over 110 Uptime Centers across North America."
The main purpose of the development of Uptime Centers was to reduce wait times because VTG began noticing that trucks with short repairs would often get stuck behind those with more timely repairs and that the concept of "first come, first serve" wasn't working so well.
That's why each Uptime Center has Uptime Bays and Advanced Bays. After check-in and diagnostics, which are completed within 30 minutes, a technician will decide whether a repair is suited for Uptime or Advanced. Uptime Bays are for short repairs completed within four hours and Advanced Bays are those that have been assessed as requiring more work.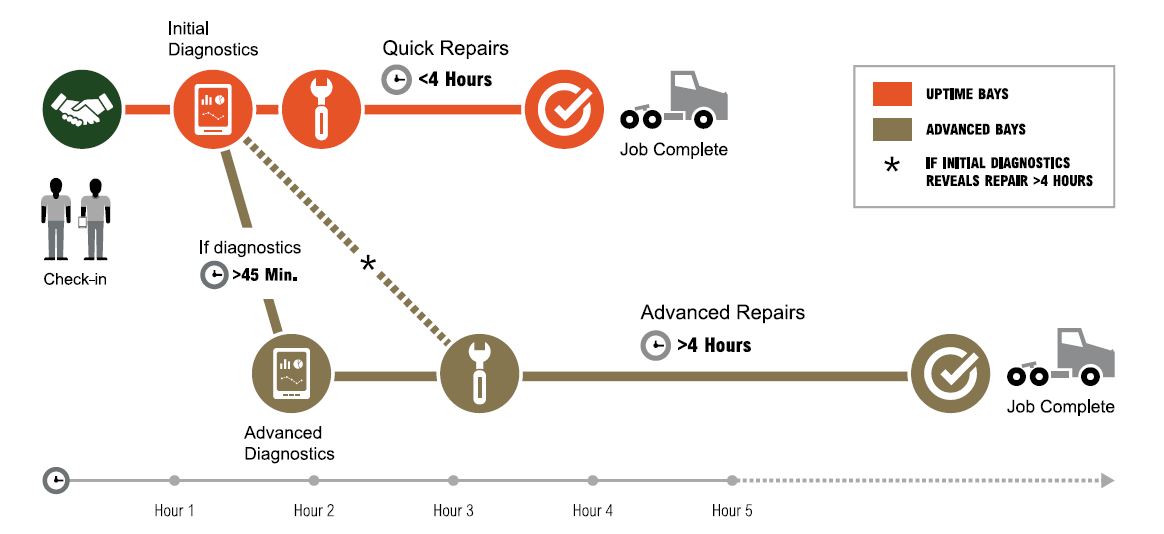 Basically, the process allows for trucks with short repairs to have a lane of their own, making sure those drivers on a schedule can be in and out in no time.
"Think of Uptime Bays as the fast lane at the grocery store," said Brown, "why wait in the big line of full carts when you only have a few items."
"It's important that our customers' trucks are on the road working earning money for them," said Stephen Roy, president of Mack Trucks North America. "Through our Mack Certified Uptime Centers, we've completely rethought our approach to how trucks are diagnosed and repaired, enabling us to get trucks serviced and back to the customer as quickly as possible."
For dealerships to become officially certified, the process takes roughly eight weeks and includes final assessments from Volvo and Mack to determine that all of the requirements have been met.
With Etobicoke becoming an official Uptime Center, all of VTG's locations are now ready to help customers spend less time in the shop, and more time on the road.
Watch 'Mack Certified Uptime Center'
Watch 'Volvo Certified Uptime Center'